Maddigan's Quest is a 13-episode fantasy tv series created by internationally-renowned NZ children's author Margaret Mahy and produced by South Pacific Pictures. It was filmed in the Auckland area in early 2005. Michael plays the cyborg, Maska.
From the South Pacific Pictures website: "Set in a post-apocalyptic future, Maddigan's Quest follows a troupe of circus performers, known as Maddigan's Fantasia, as they traverse through shifting landscapes and isolated communities.
At the centre is 14-year-old Garland, reader, archer and tightrope walker. The Fantasia has made this trek many times, but this time they have a secret mission - to bring back the solar converter which powers their home city, Solis.
But as the Fantasia is attacked, two mysterious boys, Eden and Timon, appear with their baby sister Jewel. Garland learns they are from the future, journeying back in time to help the Fantasia. They bring magical powers and a Talisman that must be protected at all costs. But they also bring danger."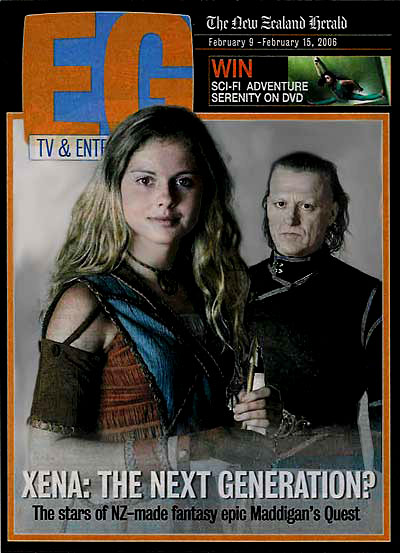 Rose McIver as Garland; Michael Hurst as Maska
E.G. (N Z Herald's entertainment magazine) had a cover story on Maddigan's Quest on 8 February 2006; click here for story.